I love Greys Anatomy and have been addicted since I started watching. I started watching it before it was really a major thing in the UK and before Netflix or streaming services were a thing. I instead had Lovefilm, where you used to get sent a DVD in the post each week. After Season 1, I had enough of this system and so then got another plan on the go. My mum and I invested in a DVD player that could play USA DVDs on it and then imported the Box Sets from America. By the time Season 3 was on British TV we had Sky Plus and On Demand, so it was much easier. Now all 13 Seasons are on Amazon Prime and so it is even easier to binge watch til' your heart's content. So if you've not watched Grey's Anatomy yet here is my ten reasons why you should. If you have hopefully you will agree with these points.
10 Reasons Why You Should Watch Grey's Anatomy
#1 – It's Relatable
The storylines and characters are so relatable. You can see parallels between the characters lives and yours. You feel their pain you can empathize with them. Although sometimes some of the stories are a bit far-fetched they mostly always have a recognisable element.
#2 – You get so Emotionally Invested
Once you start you get so emotionally invested in the characters. You feel their pain, share in their happiness and the unfortunate truth is, there will be tears. In fact when one main character died my husband stopped watching it because he couldn't take any more death. I think this, however, is the sign of a truly good series that you feel part of the family.
#3 – It keeps you on the edge of your seat. Without giving up too many spoilers there are lots of exciting plots – guns, bombs, fires, and animals escaping from Zoos. It is not without drama. I remember once watching an episode and having to stop it because I was scared of the ending. It took me days to build up the courage to watch the ending.
#4 – The Soundtrack is Amazing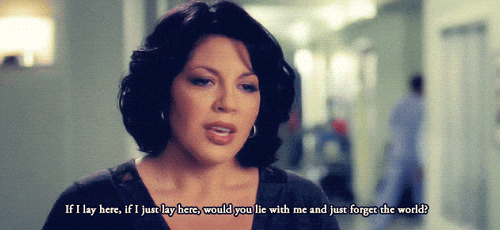 The soundtrack has become iconic. It made Chasing Cars by Snow Patrol an international hit. The show's creators put a lot of thought into curating the right music. The music is always so on point, but also it's a good place to discover new bands and songs. There even is a musical episode, which is a bit dodgy but brilliant!
#5 It's really clever
Keeping with the music theme, every episode is named after a song. That's impressive to keep this up for 13 seasons, not only that but each episode has an ongoing theme that ties all the subplots together. The stories are all brought together with a narrator at the start and the end.
#6 Eye Candy
If the dramatic storylines or relatable characters are not enough the cast is very easy on the eyes. I mean seriously you can just watch it with the sound off!
#7 Diverse Cast
Not only are the cast beautiful; the cast is so diverse. This is what Shonda Rhimes, the writer is good at ensuring a good range of diverse actors and role models. This can never be a bad thing, right?
#8 Beautiful Setting
Maybe I am biased, I have family in Seattle and so I love Seattle. Last time I was there I even climbed the hill where Derek is building his dream home. It's up a hill called Poo Poo Point – yeah I laughed at that too!  FYI you don't need a ferry boat to get there.
#9 Rewatchable
I have rewatched the entire series 2 or 3 times. It's such a good story that you can rewatch it and still be as hooked on it as the first time.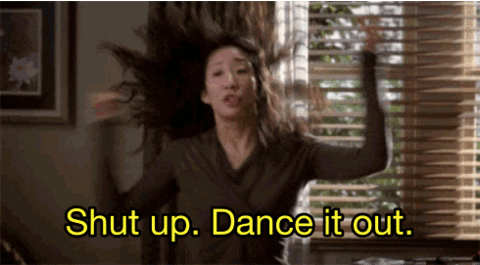 #10 Empowering
 Finally, after binge watching Grey's Anatomy for days, I feel empowered. Not as a female. But as a medical professional. I seriously think I could perform surgery or at the very least give it a bash!
So what are you waiting for Grey's Anatomy has everything you want – Sex, Relationships, Surgery, Violence, Dra, a and hotness? If you've not got
Amazon Prime
– your first months free! Give it a go and let me know how you get on in the comments.Read my other TV recommendations
here.
SaveSave
SaveSave