I love any royal event and so I am super excited to have a Royal Wedding party next month. Here's my guide on how to celebrate Harry and Meghan's nuptials on 19th May.
Memorabilia
Firstly let's talk about the Memorabilia. The good the bad and the ugly. I mean I feel very let down there is no Royal Sticker album like there was with Kate and Wills. I loved collecting the stickers and finally a sticker album I could get behind.
I have seen some really poor quality mugs in several shops. Primark have really poor quality mugs priced at £6. They are blurry and really not worth it. There are lots of companies cashing in on it. As you would. I have also seen these Bags for Life on Amazon or in The Range for £1.99. I kind of love these but feel I wouldn't use it after the event!
My favorite is Cath Kidston. She never disappoints. There are Bowls, Plates and Mugs available that are classy but still celebrate the British Culture. I think I am going to get a mug.
Emma Bridgewater is also creating a range of cups and bowls. They had cups that were sold out when the engagement was announced. Check out their Royal Wedding Collection here, although I thought the writing looked a bit smudged?
Of course, if you really want to splash out there are official plates, bowls and other tableware available from the Royal Collection. For me, this is too fancy like Royal Memoribilla needs to be a little kitsch or cheesy but without being tacky. Also, £20 for a miniature mug! I'm okay.
See my carousel of the good the bad and the ugly items I found on Amazon!
Part of me feels this list may grow in the coming weeks especially when they get the memorabilia for the new baby out. Marks and Spencer normally don't let me down, although so far we've only seen this biscuit tin… Which I'm a little indifferent about!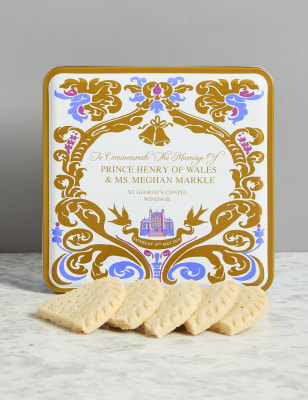 Party Essentials
Ultimately for the Party, you will need a TV to watch the coverage on. The wedding starts at 12pm and the coverage will be on all day I am assuming. Apart from that anything else is a bonus. It would be nice to have fellow royalists around and you cannot go wrong with some Union Jack bunting. Why not pull a whole day party, Royal Wedding followed by the FA Cup final? If its a nice day get the barbeque on! I feel there will be more 'British' party food cropping up in the supermarkets in the weeks leading up the event. Ultimately you need to combine your favourite USA and UK delicacies. Strawberry and Cream and Apple Pie! They were apparently cooking Roast Chicken when he proposed so why not have some Roast Chicken sandwiches!
Drink
I mean who doesn't love a good knees up. How better to celebrate than with a Royal Wedding gin. Partridges, a fancy London Deli has worked together with the same distillers as Rock Rose to create a Royal Wedding Gin. No. 2 Chelsea Flower Gin is a bergamot infused London Dry Gin and has been described as 'elegant, indulgent and rounded with body and freshness. Notes of bergamot lead but there is also a medley of citrus and coriander with hints of lemon tart and vanilla'. Sounds promising, although annoyingly it comes out the day of the wedding!
The Royal Collection is also selling mini champagne, although I'm sure the supermarkets will also cash in on this!
And no major event would be complete without a drinking game. Now I have two ideas for this we could go with this traditional drink if.. game that Town and Country have created. Or get together with a group of friends and each chooses a member of the Royal Family (You could even buy these masks so you become that person) any time that person is on the screen you have to have a drink. Could be messy if you are Harry or Meghan but also super fun. (ALWAYS DRINK RESPONSIBLY!)
This is just my initial guide to the Royal Wedding Celebrations. I will update as I find more party ideas or memorabilia. Pin this page or save for later as a reminder!
SaveSave